About F Class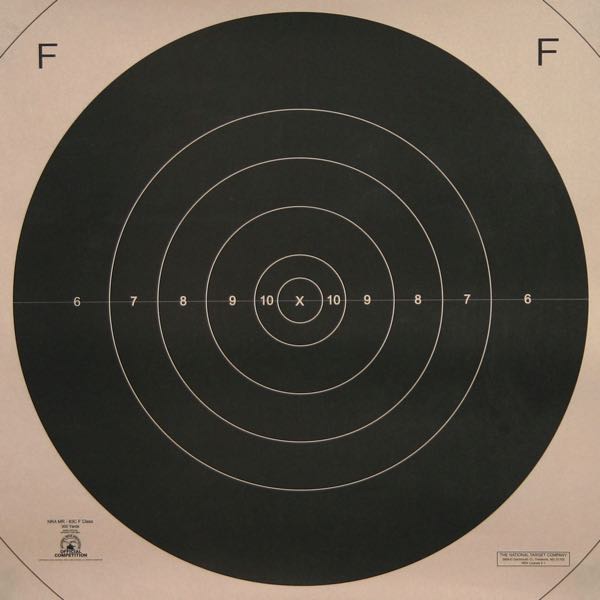 F Class Target - notice the smaller 10 and X rings
F-Class, a subclass of NRA High Power Rifle, is one of the nation's fastest growing shooting sports. F-class is shot prone at distances from 300 to 1,200 yards. Competitors may use almost any caliber rifle (up to .35 caliber), a scope, a rear rest (bag), and a front rest or bipod. F-class is an ideal sport for beginning competitive shooters male and female, young and old.
F-class is target shooting with scope sights and artificial support allowed, unlike conventional NRA High Power Rifle, which allows only the use of a sling for support. It started in Canada as a means of keeping older shooters in the game after they started having trouble seeing iron sights and getting trussed up in coat, glove, and sling. It has spread to the US, and is now supported by NRA and attracts both tactical style marksmen as well as those geared towards the precision aspects of Benchrest shooting.
At ENGC, F-Class is shot at 600 yards, which designates it as Mid-Range. Shooters are classified by previous match performance (marksman, sharpshooter, expert, master, or high master) and broken into two equipment classes:
Target Rifle (F T/R)
F T/R Rifles must be shot off a bipod attached to the gun with a rear sandbag allowed, weight limit 8.25 kg (18lb) scope and bipod included, no limit on scope power, any safe trigger pull, any safe load. F T/R Rifles must be chambered in either .308 Winchester or .223 Remington. There are no bullet weight restrictions.
Open Class
F Open rifles can be any caliber under .35, and are usually shot off a front rest. Any rest is acceptable as long as it does not return the gun to battery and does not connect the front and rear rests. The rifle's weight limit is 10 kg (22lbs), not including the rest(as long as it is not attached to the rifle).
The F Class target is similar to the conventional High Power Rifle target, although it has smaller rings at the center. The ten ring is approximately one-MOA (that's 6″ at 600 yards) and a ½ MOA "X" ring is used for determining ties.
Please note that muzzle brakes are not permitted under F Class rules - the concussion is unpleasant and distracting for the shooters to the left and right. Please remove any muzzle brake from your rifle before shooting a match.
See the NRA High Power Rifle Rule Book for more detailed information on F-class competition and High Power Rifle.